8.04.2019



Why do I need a comics?

Comics is easy to create, but at the same time it is a great way to tell stories. Visual stories are easy both to produce and consume. That's why comics is an effective means of communication, which is, in turn, is a key to audience. In terms of the latter, my target is to find loyal followers.

Some existing comic projects inspire me a lot. Florence is a visual gamified story. It is very beautiful and, moreover, it has been repeatedly awarded for its design and gameplay. As for me, this is a perfect example of modern storytelling. Weird Helga and Danny Casale are examples of funny comics. The characters are very popular and have loyal fans. WebToons is an open platform where creators can publish their comics. The platform has a huge audience in the USA and Asia.



I launched my comic project "Kyivskyi olen" as an experiment to understand how to gain interested followers. It has already achieved noticeable success (more about it below). Follow and like it on Twitter and Instagram!


How did I find my style?

It took me about two weeks to find the appropriate style. I created a challenge page in the English version of my website and committed to drawing at least one picture a day. Meanwhile, I tried different styles, from realistic (as far as it is possible, considering my drawing skills) to more simple, and I also tried working in 3D.

When I realized that comics is a long-distance race, I decided to try the easiest style. I didn't understand whether it would be interesting to the followers and didn't want to waste time on learning how to draw. So I decided to draw fast, which means that I would draw in the manner I am capable of. That's why pencil or pen drawing and further editing, as well as messing with 3D and realistic style weren't really for me.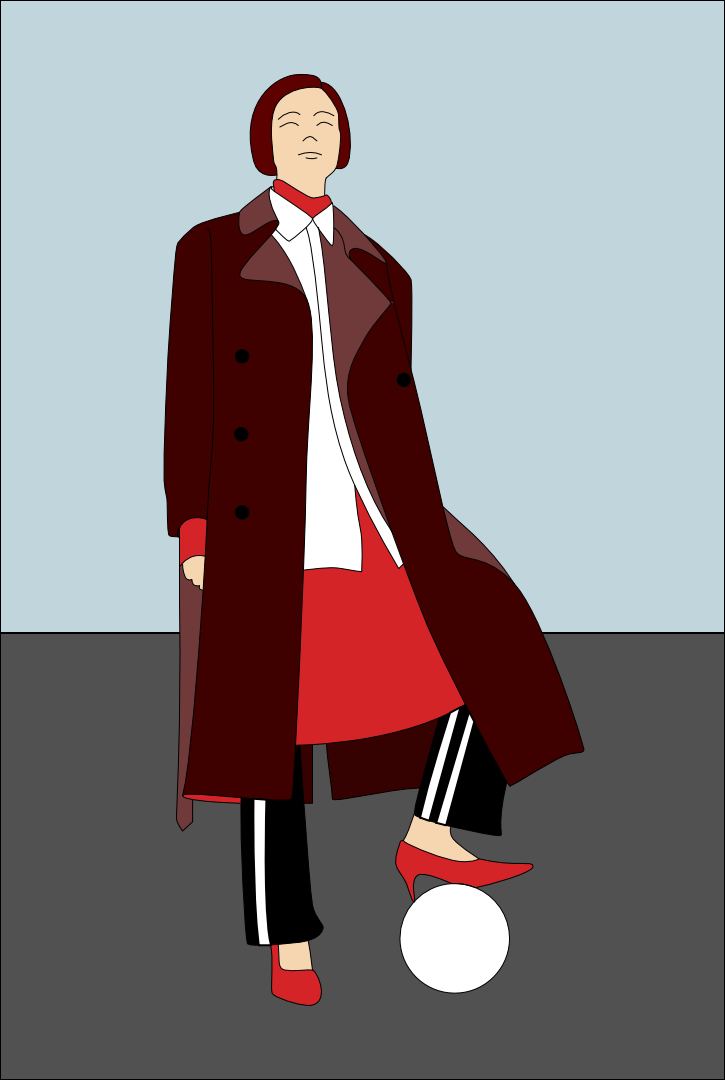 In search for style. One Day, One Picture

As a result, I chose a cartoon style. It has transformed a bit as I was progressing, which is to say I made it simpler and created a lot of mockups. Now, two months since the beginning, I spend around 20 minutes to draw one comics.


Tools

During the first month, I have been drawing all comics in Affinity Designer. It is a great and a much faster tool compared to Adobe Illustrator. What is more, it has an app for iPad, which is cool, because I have long wished to learn to draw illustrations on iPad. It enables me to draw everywhere without a mouse, as compared to Mac.

The more I tried to grasp the comics industry, the more apparent the trends became to me. Popular comics are either in the process of switching to, or have already switched from pictures to short videos. That's why I decided to come back to Adobe, and now I am using Illustrator for drawing comics, and After Effects for animation.


Team


This is one of the key aspects in any project. You need to have a team, to communicate, exchange ideas, have mutual responsibility and aspiration towards the common goal. It is very important to understand that you are not alone.

Now I am working on the comics together with my sister and girlfriend, so we are having sort of a family business here. I draw comics and plan publication, my sister publishes comics and does SMM, and my girlfriend consults me in regard to communication strategy. Wanna join? Write to me!


Where do I get ideas?

Comics begins with a plot, script or at least a sketch. I am not able to write professionally, but I am can professionally create visual content.

Nevertheless, I want to create popular content, so I need interesting plots. That's why I am looking for already existing successful scripts. I call it "reference system" where I borrow ideas from other creators and adapt them to my characters and topics.


Workflow

Each step of production is fixed on a separate Trello board. There are 4 main stages:

Collection of references
Planning publications
Drawing
Publication


Usually we don't look for references purposefully, only in case of special occasions, such as holidays. I follow many comic accounts on Instagram, Facebook and an app called

WebToon. Sometimes I look them through and save successful examples in a Trello board.

Afterwards, twice a month I select examples based on which I will create next issues of comics. Then I plan publication using the Trello calendar.

In accordance with the previously set dates I then draw comics. Currently I create at least one new comics a day, so far only as pictures and not videos.


How to promote on Instagram?


We managed to get the first 1000 followers on Instagram within one month mainly with the help of mass following, hashtags, regular publications and remakes of memes.

Mass following is effective to gain followers. The most important thing is to find potentially interested followers. In order to do that, you have to first find popular content that is similar to yours and then follow people who like and comment it. Bear in mind that Instagram limits the number of accounts to follow per day.


Hashtags
can help achieve a greater audience reach. Our most effective posts have reached the most followers thanks to hashtags. As of now, I don't understand how to get a proper set of hashtags. Currently we are using all possible hashtags used by other popular accounts with similar content.
Regular publications
remind our followers about the comics and help gaining loyal followers faster. In this regard, the content that has become a
meme
is a guarantee of success. So the most popular posts are naturally remakes of famous memes.
How I see further development

Followers
I need to find a more effective way of gaining followers rather than mass following. With 1000 followers, it is already good to have 10 to 50 new followers. During the last two weeks we stopped using mass following and the influx of followers decreased only to 5-20, which is a great news in itself. To achieve our next goal of 10000 followers in two months we need to come up with something more effective. I am thinking about collaboration with other comics, advertising, publications in the media, etc.

Monetization
Apparently, mere enthusiasm doesn't work in the long run. Currently we are considering two means of monetization, through advertising or product sells. The issue is under investigation.

Comics for different audiences
In this project, our main followers are Ukrainian teenagers. They are not the wealthiest followers of all. We have to try to target a more mature audience with clearer interests.


Conclusions

In general, it turned out to be easy to create comics. What remains hard is how to make money on it:) So far, I haven't found similar projects in Ukraine, although the demand of audience is clear. To me, it is interesting to keep creating comics as I have a smooth workflow. The only thing is that as of now, I don't grasp what it can possibly turn to.